Overview
Syntinel is a targeted implementation of Synapse.Server making use of the AWS and Azure SDKs via Handlers, where the Synapse Plans provide simple query/action interfaces into managing your cloud environments.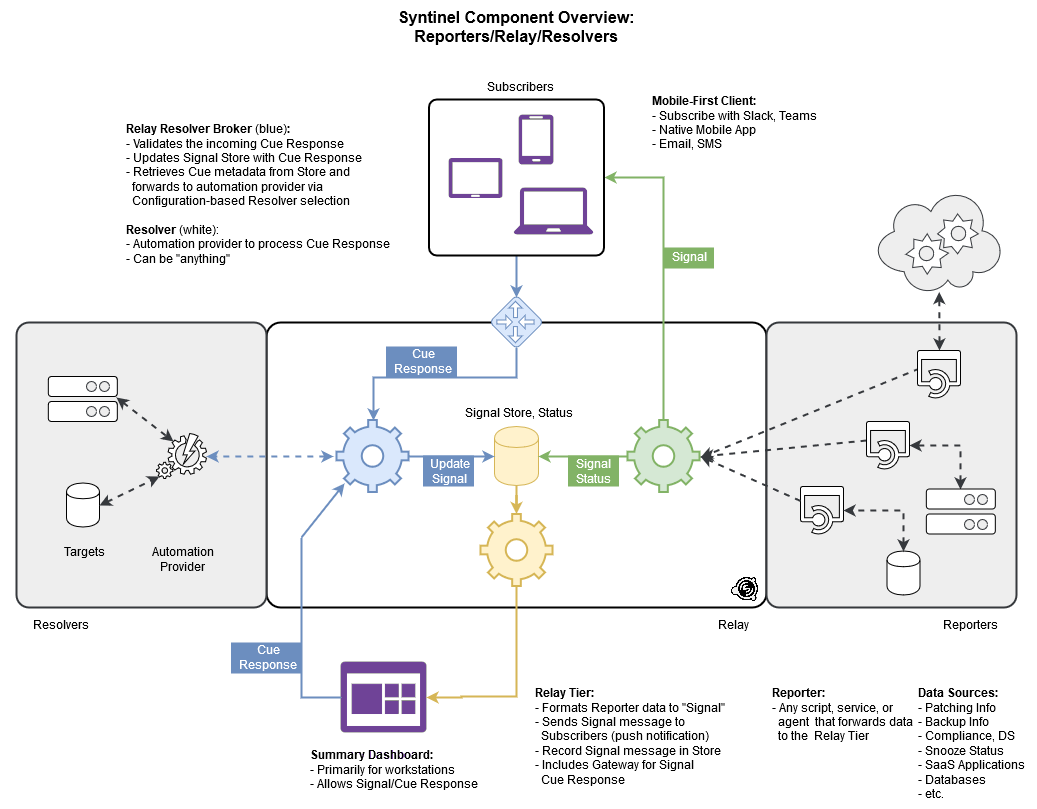 Components
Reporter
Scripts, Services, or Agents that discover and forward actionable data to the Relay tier.
Recon
A Syntinel-provided Reporter.
Relay Tier
Formats Reporter data to "Signal"
Sends Signal message to Subscribers (push notification)
Record Signal message in Store
Includes Gateway for Signal Cue Response
Resolver
Receives client response and passes to automation provider.
Broker: examines config for redirect to proper Resolver
Resolver: Automation provider, could be "anything, anywhere"
Signal and Cues
JSON message that contains

Cues: Options for resolving Signal message
UI Abstraction: Generic JSON to describe UI
Default Cue Choice: Optional timeout for default Cue
UI Abstraction
JSON layout for translation to miscellaneous client types

Slack
Teams
HTML
Text
Support for "any" client architecture
Resolver Abstraction
Resolver Broker examines Signal for selecting proper automation provider
AWS Native (Lambda), redirects to "anything" under known provider model
Resolver Provider
Proper automation provider to act on targets based on Cue response
Use-Cases
Query uptime on servers and shut-down development kit.
Validate tags for compliance against desired structure.
Validate environment settings for drift against template definition.
Release Status
Syntinel is in active development and not fully released as a product at this time. You may evauluate the AWS Handlers at the links below.